"My standard for every piece is to build tomorrow's heirloom today."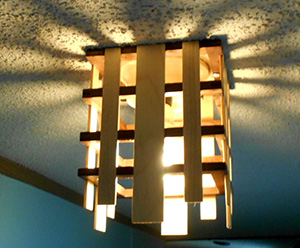 To shape a medium born of the earth into a piece of art with natural beauty and lasting functionality is tremendously rewarding. 
My passion for creating natural wood products developed over the course of my life. I grew up when things were made with a purpose and when that purpose was done, the item was re-purposed instead of being discarded. We gave furniture new life by refinishing it, we used remnants of wood from one project to build additional items. We beautified the house by scraping and painting. It's no surprise that "shop" was my favorite class beginning in junior high school.
One of my first jobs was in home construction. Every aspect—from flatwork to framing to trim work—followed plans, drawings and specifications. Measure, cut, install, and do it again for the next piece. Learning the mechanics woke up my artistic side, and I began visualizing more. 
When I found myself with my own home, I saw a place that needed furniture and discovered an opportunity. The garage became my woodworking studio where ideas turned into tables, headboards and chairs. I learned the nuances of different woods, their characteristics, densities, natural colors, grain patterns and functionalities.
To support my family and my passion for creating wood items, I continued working in housing. Traveling the U.S., I learned more than current industry standards. I became involved in the restoration of homes built 60, 70 and more than 100 years ago, as well as new upscale homes. The artisan in me began to envision furniture styles to complement historic, mid-20th century and 21st century homes. 
Traveling abroad and immersing in lifestyles of other countries and cultures proved a fascinating exploration into the form, function and beauty of furniture and craftsmanship developed in foreign lands.
Today the woodshop is bigger and the tools are better, but the focus is still making the beauty of the wood the prerequisite of all function and form. My hope is that every piece I create is owned by and cared for by someone who appreciates its beauty, craftsmanship and functionality.