Personalize and make any Oklahoma Master Woodwright piece undeniably unique by adding a custom inlay.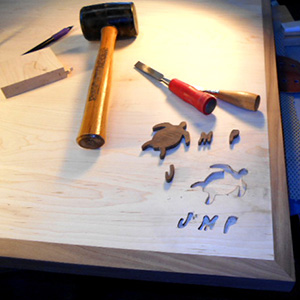 An inlay is a silhouette created in contrasting wood to showcase the personalization you've chosen for your custom wood piece. Our inlays are true wood inlays, not a veneer applied onto a piece, and are one more way to set your custom wood piece apart from mass-produced items.
In Oklahoma Master Woodwright's woodshop, our inlays are made by hand without the use of computer-driven equipment frequently found in mass-produced products. Inlay done by hand is a craft requiring mastery and is quickly dying off. Our inlay work is a true handcrafted piece of art.
Choose whatever image you wish for a personalized inlay that says this piece has character. Consider your home state, a favorite hobby, a memorable trip destination, a representation of your faith or simply your monogram.
You can't get more custom-made than an inlay added to items made from natural wood by Oklahoma Master Woodwright.