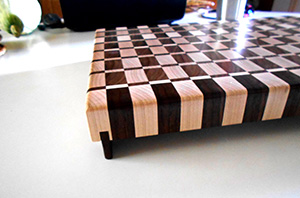 Functional, Durable & Beautiful Cutting Boards
Professional butchers and chefs have been using wood butcher blocks and cutting boards for centuries. They are the inspiration for every cutting board crafted by Oklahoma Master Woodwright. Our boards are beautiful, durable and easy on the cutting edge of your favorite cutlery.
A secret to making long-lasting boards is using the right wood; only a few select hardwoods are conducive to making a durable product that can easily be kept bacteria-free with proper maintenance. We use a powerful adhesive, thoroughly applying it to all glue joints. For a hold that lasts, we pressure seal them from all directions for 12 hours minimum. 
For a secure cutting surface and added protection, feet are installed to safeguard your board against future spills that can seep under a board. Without feet moisture under your board cause irreparable damage. 
Why Wood? 
There are two types of wood cutting boards: edge grain and end grain. 
If the grain of wood was a handful of toothpicks bound with a rubber band, edge grain would be like the toothpicks laying lengthwise. Your knife would move across the grain cross ways. End grain would be as if the toothpicks were standing upright, with the blade moving across the ends of the toothpicks. 
Old time butcher blocks were made end grain. The end grain board is less destructive to the edge of cutlery and to the cutting board because the blade moves between the grain, which comes back together after the blade passes. 
Edge grain or end grain, wood cutting boards are a superior product to plastic or other man-made surfaces.
To learn how to care for your Oklahoma Master Woodwright cutting board, click here.
Start the Conversation
In an email tell Oklahoma Master Woodwright about the cutting board you desire. Click here to visit our contact page and complete the form. We'll respond promptly.