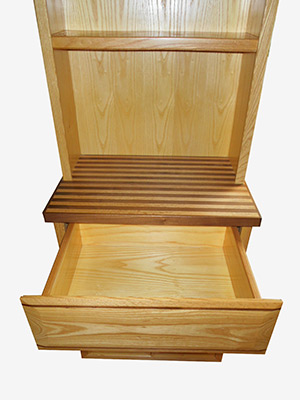 In the Oklahoma Master Woodwright woodshop, we create furniture that is unique and individual, and compliments your home.
Oklahoma Master Woodwright furniture has clean lines, is functional, doesn't appear heavy or bulky, and showcases the beauty of the wood. To draw the eye into the wood's rich texture, a finish is carefully applied the old-fashioned way: without automation. Whether applied by brush, sheepskin or sprayer, it is always done with a master's eye for perfection.
Every furniture piece we make is unique and customized to blend with your space. From concept to installation, we'll work to create a functional work of art for your home.
The Oklahoma Master Woodwright's Process
We only build with the very best hand selected wood and mechanicals. We would never consider a second-rate hinge or drawer glide. 
Suppliers are aware of our selective eye for wood. We often review entire inventories and sometimes we leave empty handed. Sometimes a supplier calls us first when a particularly spectacular specimen arrives. Ultimately, the end product—your furniture—depends upon a discerning eye of experience at the supply house to maximize its beauty.
Our building technique is precise and never takes a shortcut. Each piece is formed to fit seamlessly with strength and durability. Extra care is taken to sand and prep each piece for its final finish, carefully testing for smoothness with cotton balls. 
We have so much pride in the beauty of a product we often make drawer pulls and door handles in our woodshop. Sometimes what's available in a store just isn't good enough and doesn't do your finished piece of furniture justice.
To make sure the wood's natural beauty is showcased, we apply natural stain and a clear coat of semi-gloss finish. We never put a dark stain on wood. If you request a furniture piece in dark tones, we will build it with a beautiful deep-toned wood, and then apply a clear stain and polyturethane to enhance the beauty of your choice of wood and color. 
To learn how to care for your Oklahoma Master Woodwright furniture, click  here.
Start the Conversation
Tell Oklahoma Master Woodwright in an email about the furniture piece you would like for us to create. Click here to visit our Contact Page and complete the form. We'll respond promptly.